A crush on You Andreas Weixler / Se-Lien Chuang 1999 - 2002 (work in progress)
interactive performance for Yanzin and msp signal processing
Se-Lien Chuang, Yan-Zin
Andreas Weixler, live audio signal processing

---

The max/msp patch has been programmed and rehearsed at the SUSS Studio1 at Sheffield University Sound Studio during a composers residence and has been finished at Atelier Avant Aweixler/Cse-Lien in Graz Austria using Max 3.8.9 with msp running on a G3 Macintosh computer.

Yan-Zin is a traditional chinese instrument, in the performances played by Se-Lien Chuang. The sounds of the Yan-Zin will be digitally processed in realtime by Andreas Weixler to bring together traditional asian instrumental sound and contemporary western computer music in an improvisation of two musicians.

developing studios:
SUSS Sheffield University Sound studio 1999
Nagoya City University, Japan 2001
Atelier Avant Austria 1999-2002
---

Die Klänge der Yanzin, der chinesische Trapezzither gespielt von Se-Lien Chuang, wird in Echtzeit digital bearbeitet von Andreas Weixler.
In der gemeinsamen Improvisation verschmelzen traditionelle asiatische Klangwelt mit westlicher zeitgenössischer Computermusic.

Das max/msp patch wurde im SUSS Studio 1 des Sheffield University Sound Studio im Rahmen einer composers residence erstprogrammiert und erprobt, und im privaten Studio der der beiden Musiker, Atelier Avant Aweixler/Cse-Lien, und im Sound. Lab der Nagoya City University, Japan 2001 weiterentwicklelt.

---
first premier at Weingut Gasser 99 commission by Dr. Gasser

Se-Lien Chuang mit Yan-Zin live, Andreas Weixler Signal Processing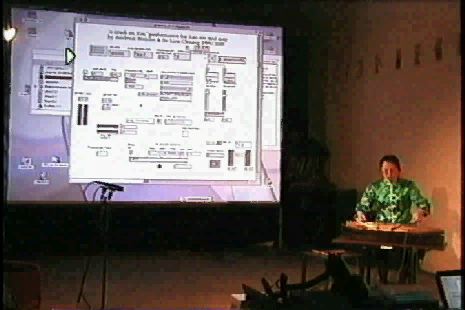 live in New York, at experimental intermedia 2000
Aufführungen/premiers
25.09.1999 Weingut Gasser, Steiermark
12.12.1999 Festival Elektrokomplex 99, Rhiz Wien
15.12.2000 Experimental Intermedia New York, USA
16. 02. 2001 Nagoya City University, Sound Lab., Japan
---
13.01.2000 aweixler@sime.com
update: 23.04.2002