Concert of JSEM, Japanese Society of Electroacoustic Music
10th of March 2004, Sumida Triphony Hall, Tokyo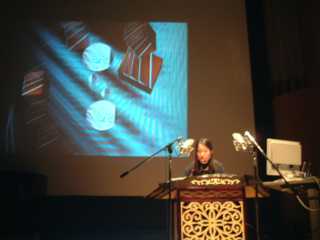 Erinnerung in jedem Laut (2003/4) by Se-Lien Chuang
for live instrument, live electronic and visuals
length: ca. 15 minutes
The fragments of memories (from a human as well as a computer) generate the synaesthesis between sounds and images. In terms of acousmatics I applied the spatialisation of sounds to integrate the movements of visuals for "the listening imagination".
Se-Lien Chuang: concept, Yan-Zin, visuals, Max/msp
Andreas Weixler: Max/msp, multichanneling granular synthesis
technical realisation
2x G4 Macintosh Computers ( we bring )
2x MIDI interface ( we bring )
2x condensor microphones/ 2x contact microphones, 1x vocal microphone
4-channel/ 8-channel speaker system and 2x monitor speaker system
1x main mixer and 1x stage mixer (with 2 Aux send pre fade)
1x data videoprojector
1x projection wall
1x long VGA cable 10 m
1x VGA video monitor (for performer)
1x VGA spltter (if you do not have one, we will bring one)
1x subwoofer
div. cabel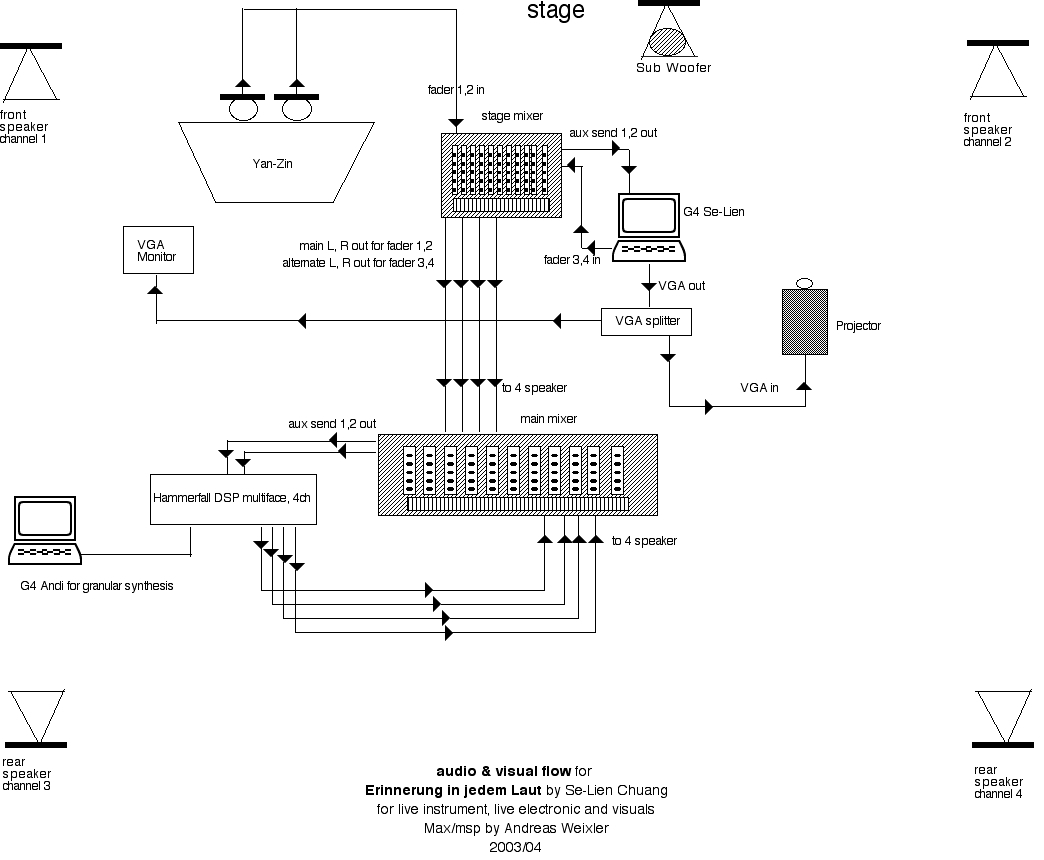 ---
Chuang Se-Lien
composer, pianist and media artist
1965 born in Taiwan, since 1991 residence in Austria
2003/04 lecturer in computer visual communication at Tainan National College of the Arts, Department of Applied Music /Taiwan
2000/01 research project in computer music und audio-visuaj arts in Nagoya City Universiy/Japan
2003 commission of composition by city museum Innsbruck/Austria; promotion of composition by Kunst Sektion BKA/Austria and SKE Fonds
2000 commission of composition by Styria Government 2000; commission of composition by AsianCultureLinks for the taiwanese ensemble CFMW/Taiwan
diverse performances and study-stays in Europe, Asia, South- and North America.
activities (selection)
2003 k r y p t o n a l e 9 Festival Berlin/Germany
2003 Busan International Digital Technology Music Festival Busan/ South Corea
SICMF 2003 Seoul International Computer Music Festival Seoul/South Corea
2003 Ruheraum exhibition by the City of Innsbruck of celebrating the 75th anniversary of the Nordkettenbahn funicular system which is in the Tyrolean Alps/Austria
SICMF 2002 Seoul International Computer Music Festival Seoul/South Corea
ISEA 2002 the 11th International Symposium on Electronic Art Nagoya/Japan
artport 2001 - MEDIASELECT 2001 Meandering Look - PreISEA Program, Nagoya/Japan
Laval Virtual and VRIC (Virtual International Conference), France Z01
Experimental Intermedia NYC Z00
concert New International Community of Electroacoustic Music (NICE)/Amsterdam, Netherland '00
SIBGRAPI 2000 Video Festival/Gramado-RS, Brazil
6th international festival in computer music of Pusan Eletronic Music Association Performance, South-Korea Z00
1999 diploma with distinction in Music and Media Technology at Studio for Advanced Music and Media Technolgy (Aderlhard Roidinger, Karlheinz Essl) at Bruckner-Conservatory Linz/Austria;
scholarship in Silicon Graphics Studio at WIFI/ Graz/ Styria;
1.diplom in composition (Beat Furrer) at the University for Music and Dramatic Arts in Graz/Austria;
1996 piano-diploma in IGP (Instrumental-Education Department, Walter Groppen-berger) at the University of Music and Dramatic Arts in Graz;study of electro-acoustic music at the Institute of Electroacoustic and Experimental Music (Tamas Ungvary, Wolfgang Musil) Vienna/Austria;
---
Andreas Weixler
Born 1963 in Graz Austria, EU.
composer, media artist and lecturer
education
study of composition and music theory at the University of Music and Dramatic Arts in Graz, Austria with Andrzej Dobrowolski (Poland), Younghi Pagh-Paan (South-Corea), 1995 Diploma (masters degree) in composition with Beat Furrer (Swiss / Austria)
2000/01 special research in computer music at Nagoya City University, Japan, 1996 Austrian National scholarship for composition
teaching
since 1997 professor for music- & media technology at the Bruckner-University in Linz, Austria
International lectures in computer music, composition and media arts in Austria, Germany, Japan and Taiwan.
since 1995 member of the directors board of the Austrian society of electroacoustic music
performances in Europe, Asia, South- and North America. Numerous musical projects in the field of jazz related music, music for contemporary theatre and dance, contemporary composition and computer music, video and interactive media arts.

with kind support of The Austrian Cultural Forum / Austrian Embassy in Tokyo