visual composition by
Se-Lien Chuang

audio composition by
Andreas Weixler
duration approx. 4 min.
first premier at Juilliard School NYC
April 2007
main site
Atelier Avant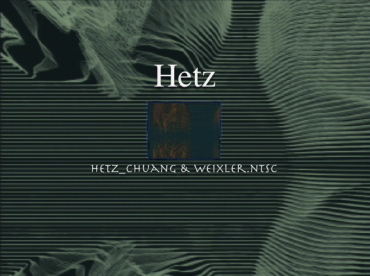 ---
Progammnote:
Hetz (2007)
audiovisual composition for piano
by Andreas
Weixler
(audio composition) and Se-Lien
Chuang
(visual composition)
Hetz is a result of a work in progress so far. Originally a piano, a viola and a clarinet performed an algorithmic score of an instrumental composition, genereated in Max. Its structures and sounds are then processed to electronic sounds on a computer using Pro-Tools and Plugins (Sci-fi and others) at the Sheffield University Sound Studio/UK. The structures of the piano part are played live again together with an visual flow of pictures generated in Max/MSP/Jitter.
produced 2007 at Atelier Avant Austria
premiered by the Juilliard Electric Ensemble
"Hetz" is a German word, which especially in Austria has a double meaning:
1. Hetz´ in the meaning of Hetze is a rush, 2. Hetz is to have very big fun.
In that it respresents the way we have been creating this piece of art: under big time pressure and with a lot of joy to hear and see it.
---
premiere:
BEYOND THE MACHINE 07
The Juilliard School Technology Center
Three evenings of Electronic and Interactive Music
April 11, 12 and 13 at 8 P.M.
Clark Studio Theater, 70 Lincoln Center Plaza, Rose Building, 7th floor, NYC
featuring the Julliard Electric Ensemble
Vicky Chow
, piano