Erinnerung in jedem Laut (2003/4) by Se-Lien Chuang
for live instrument, live electronic and visuals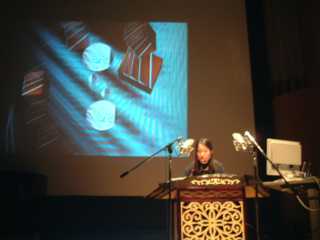 length: ca. 15 minutes
The fragments of memories (from a human as well as a computer) generate the synaesthesis between sounds and images. In terms of acousmatics I applied the spatialisation of sounds to integrate the movements of visuals for "the listening imagination".
Se-Lien Chuang: concept, Yan-Zin, visuals, Max/msp
Andreas Weixler: Max/msp, multichanneling granular synthesis

premiers
Tokyo - concert of
JSEM
04
Gent - Logos 04
Wien - electronic
access
04
Linz - electronic
access
04
Graz -
vnm
festival 04
Linz - ars electronic festival 05
Erinnerung in jedem Laut
audiovisuelle interaktive Improvisation
Se-Lien Chuang & Andreas Weixler
Bruchstücke von Erinnerungen (sowohl von Mensch als auch von Computer) generieren eine Synästhesie zwischen Klängen und Bildern. Die Klänge des Yan-Zin, einer traditionell chinesischen Trapez-Zither, im Spannungsfeld von chinesischer Melodik und westlichen zeitgenössischen Spieltechniken dienen als Interface in einem audiovisuellen interaktiven Konzert der Generierung von Bildern und Prozessen.
Zeitgleich fügt eine Mehrkanal-Granularsynthese kleinste Klangpartikel der Instrumentalklänge zu einem beständig veränderlichen Klangfluss aus Tonhöhen, Zeitdauern und Positionen im elektroakustischen Raum zusammen.
Die musikalischen und visuellen Komponenten interagieren und beeinflussen sich gegenseitig um zu einem einzigartigen synästhetischen Kunstwerk einer Improvisation zu verschmelzen.
URL: http://avant.mur.at
---
technical realisation
2x G4 Macintosh Computers
Wlan
2x condensor microphones/ 2x contact microphones, 1x vocal microphone
4-channel/ 8-channel speaker system and 2x monitor speaker system
1x main mixer and 1x stage mixer (with 2 Aux send pre fade)
1x data videoprojector
1x projection wall
1x long VGA cable 10 m
1x VGA video monitor (for performer)
1x VGA spltter (if you do not have one, we will bring one)
1x subwoofer
div. cabel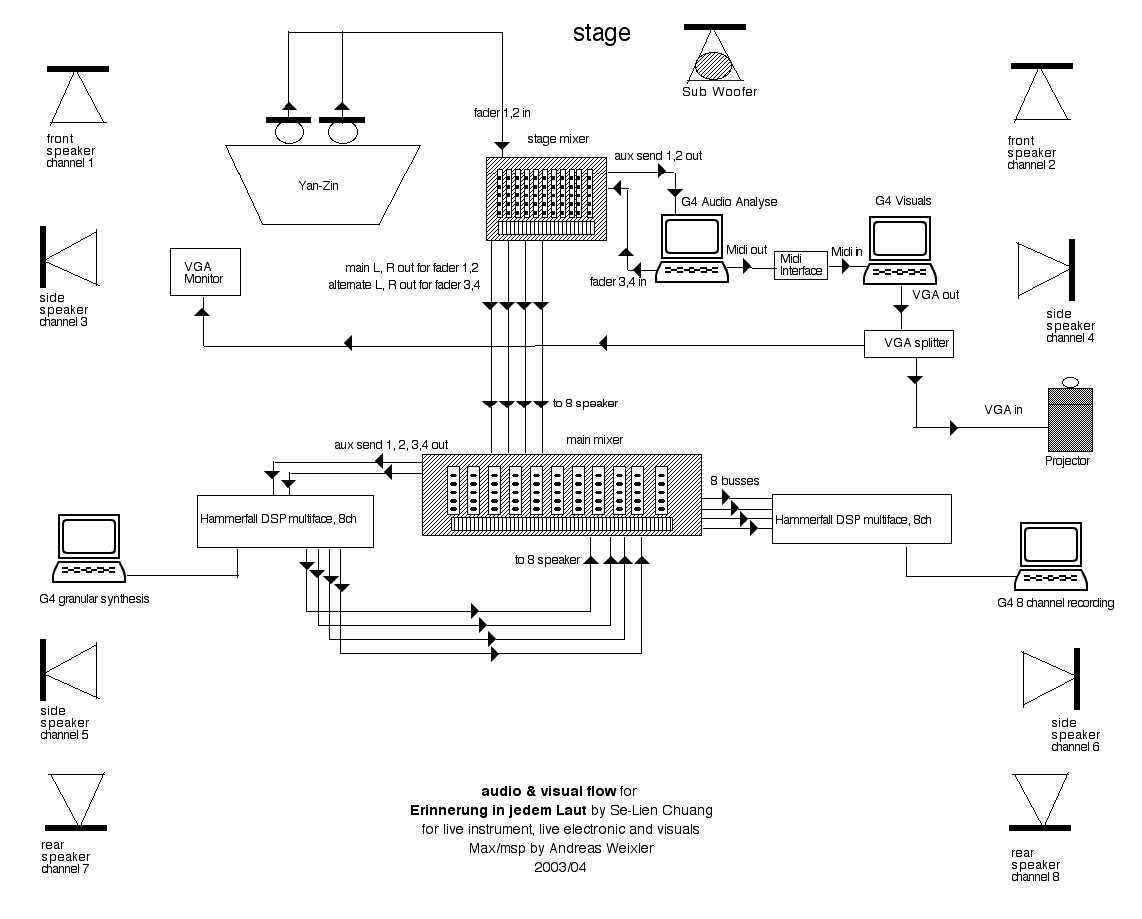 ---