Termine SS 2007
Stand 14.03.2007
Digitale Medien / Auditory Interfaces
(2 SWst)
bei Mag. Andreas Weixler
im IC Lab und im AudioLab, Sonnensteinstrasse, Zentrale Medienwerkstatt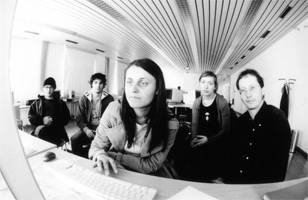 ---
---
<>Digitale Medien/Auditory Interfaces II, 330.083
1) 14.3. - 11.00-12.30
2) 21.3 -10:00 -13:00
3) 17.4.
4) 2.5.
5) 16.5.
6) 30.5.
7) 13.6.
8) 27.6.
im IC Computerraum und im Audio-Studio der Medienwerkstatt !
Referate:
DI 20.03.07: Jeldrik Schmuch, Tracks on Arte
DI 17.04.07: √ Margit Blauhut, LINE Interactive Sound and Light Installation, NIME06 p110
√ Ulli Pimminger, Spin Cycle, a colour tracking turntabel sequencer, p 75
MI 2.5.2007 Andreas Zingerle, Public Sound Art, NIME06 p 43-48
Bernhard Pusch, Ms.Pinky, turn table time code
MI 30.05 Jakob Kaiser, Einfluss des Tones im Film, (Eigenreferat)
next: Stefan Juster, Futurismus
Datum n.n. Julian Weidenthaler, concatenative synthesis, Ircam
---
Digitale Medien / Auditory Interfaces
University of Arts in Linz, Austria, division timebase media
In this lecture we explore auditive concepts and research.
---
Digitale Medien / Auditory Interfaces
Vermittelt werden
auditive Konzepte
, realtime/nonrealtime
---
Archiv
WS 06/07
SS 06 Stefan Weninger
Semesterarbeit
SS 06